Qi Wireless Charging Pad – A Great Techy Promotional Item!
Looking for a giveaway that's "Techy", "Cutting Edge", and "Cool"?
Qi Wireless Charging Pads check off all three of those boxes!
They're Techy - People love their cell phones, and many newer phones come with wireless charging capability. The problem is that many of these phones don't come with the wireless charing pad out of the box. Or if someone owns a wireless charger already, they're hooked on it's ease of use and would love a second charger for work or a different room.
They're Cutting Edge - The Qi Wireless standard has only been around for a few years and Apple has just started creating devices that use wireless charging. We can all assume this means you'll start seeing and hearing about these chargers more and more. I expect they'll become coveted promotions very quickly.
They're Cool - Of course they're cool, because everyone loves having the latest technology! But they're useful too. Imagine not having to fiddle with wires to charge your devices? That's the future we all want to live in, right?
How do I use Qi Chargers to promote my company/business?
Are you a speaker at a conference? Place a branded Qi Charger with your logo/phone/website on every chair as a gift for attendees.
Do you have a booth at a trade show? Place Qi wireless chargers at your table with your marketing materials and you're sure to be one of the most popular destinations for attendees.
Putting on a special event for potential customers? Hand them a branded Qi charger as they're leaving to thank them for participating. Not only will they be happy, they'll have your contact info handy when they're ready to do business.
Why I love wireless charges as promotions?
I've received a lot of positive feedback! A handful of clients who have ordered Qi chargers followed up to let me know how well this item was received. In many cases, their clients followed up with them with thank you notes, referrals and of course business opportunities!
If you could only pick one, which would you pick?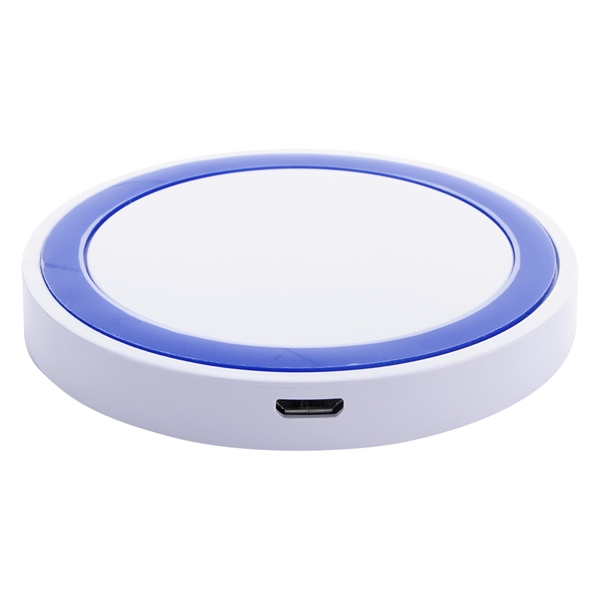 Keep your customers coming back for more when you give them this fantastic wireless phone charging pad! It allows Qi-enabled devices to charge wirelessly by simply placing it on the surface. This features an indicator light, a micro-USB input with a cord included, and an output of 5 volts/1 amp. This comes in several colors, so imprint it with your direct or silkscreened logo and have customers pick their favorite for a supercharged promotion! Every time they charge their phone they will be thinking about you! Your logo will remain top of mind for months to come.
Want to see some other options?
Check out these 5 additional Qi chargers in an assortment of colors, styles and prices to fit any budget.