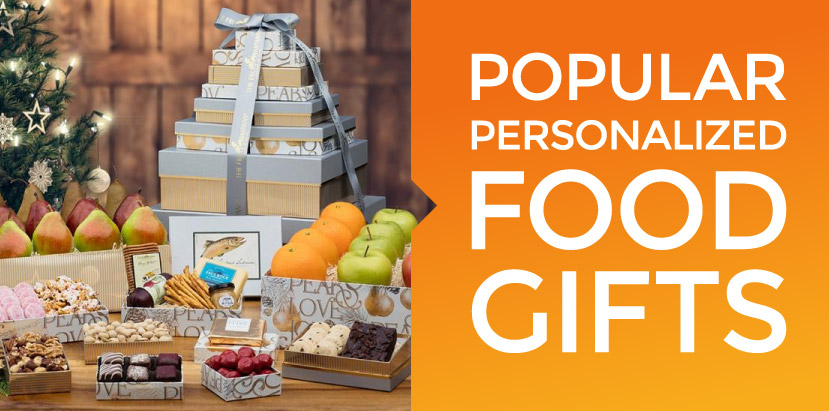 Personalized Food Gifts for Clients
Last Updated on November 9, 2020 by Rachel Leone
What are the best personalized food gifts, and why are they so popular?
While most gifts offer enjoyment to an individual, sometimes it makes sense to please a whole department, office, or family with a fabulous personalized food gift as a thank you or special treat!
These customized food gifts are a very popular promotion with my corporate customers and a few individuals too. Below, I'd love to share a few of their favorites products as well as why they choose to order these tasty treats year after year.
We offer all the items below plus thousands more I can't begin to list, so if you don't see exactly what you're looking for just ask, or browse food gifts on my online store.
Why do people love personalized food gifts?
Everyone loves food. A pretty obvious answer here, but have you ever met someone who doesn't like food? Also, who doesn't like delicious free food?
Sweet and/or salty. Whether it's chocolate, candies, mints, chips, nuts, or even bacon, we carry all the sweet and salty foods you're looking for.
A size for every budget. From a single-serve all the way up to gift boxes and towers, we've got options when it comes to size and budgets.
Family, friends, or corporate. Food gifts are very popular with businesses, but because the quantities on some of these items (like popcorn tins) are fairly low and you could give these to friends and family during the holidays.
Recipients love them. Many of my clients give food gifts annually and they tell me their recipients love them and look forward to their yearly delivery.
A handy snack. If your business has a reception area or waiting room, having personalized food gifts available for your customers while they wait can help make a great impression.
Branded. Most products we carry can be branded with a name, message, or logo, so they're great for personal or business gifts.
Delicious. The personalized food gifts we carry are of high quality and taste amazing.
The perfect combination, this tower is filled with nuts, baked cookies, and pretzels. A customized message can be included in each tower. 
Add your logo and hand these out to your favorite clients. Once the jar is empty, your customers can fill it with candy and other small accessories. 
Impress guests or clients with a personalized bag of pistachios! Includes a custom ribbon and hang tag for your name, logo, or message. 
This full-color custom box of snacks includes chips, chocolates, fruit candies, granola bars, and more! Sure to please even the pickiest eaters. 
Great for trade shows, corporate events, fairs, and festivals, this fish bowl filled with salty pretzels makes an excellent food giveaway. 
These gourmet pretzel sticks are covered in chocolate and yummy toppings. Each box can be customized with your logo and message. 
Recipients will love these huge tins of delicious popcorn. Plus there's plenty of imprint area on the top or side for maximum brand exposure. 
This smaller tin of popcorn is filled with a chocolate drizzle, toffee crunch, and nuts. Add a designer card or imprint the tin for a memorable food gift. 
This cheese package features, cheese, meats, chocolate, and nuts. This tasty gift serves 8-12 and comes with a personalized bamboo cutting board. 
The largest tower we sell features 22 gourmet treats packed into nine reusable silver and navy gift boxes. Serves 50 people or more!
The perfect box for baked good lovers. Features Coffee Cake, Whoopie Pies, Chocolate Covered Pretzels, Chocolate Drenched Oreo Cookies, Chocolate Chip Brownies, and Gourmet Truffles!
This delicious 12 box tower features Cookies, Fudge Square, Chocolate Covered Cherries, Nuts, Pretzels, Crackers, Candy, Savory Foods, Cheeses, and so much more.
Need a little something extra? Wine goes great with food!
This CA Merlot that pairs perfectly with chocolate and snacks. A favorite with my customers too. Prefer white wine or champagne? We carry those too, just call!
Need help placing your order?
Contact me to work one-on-one!