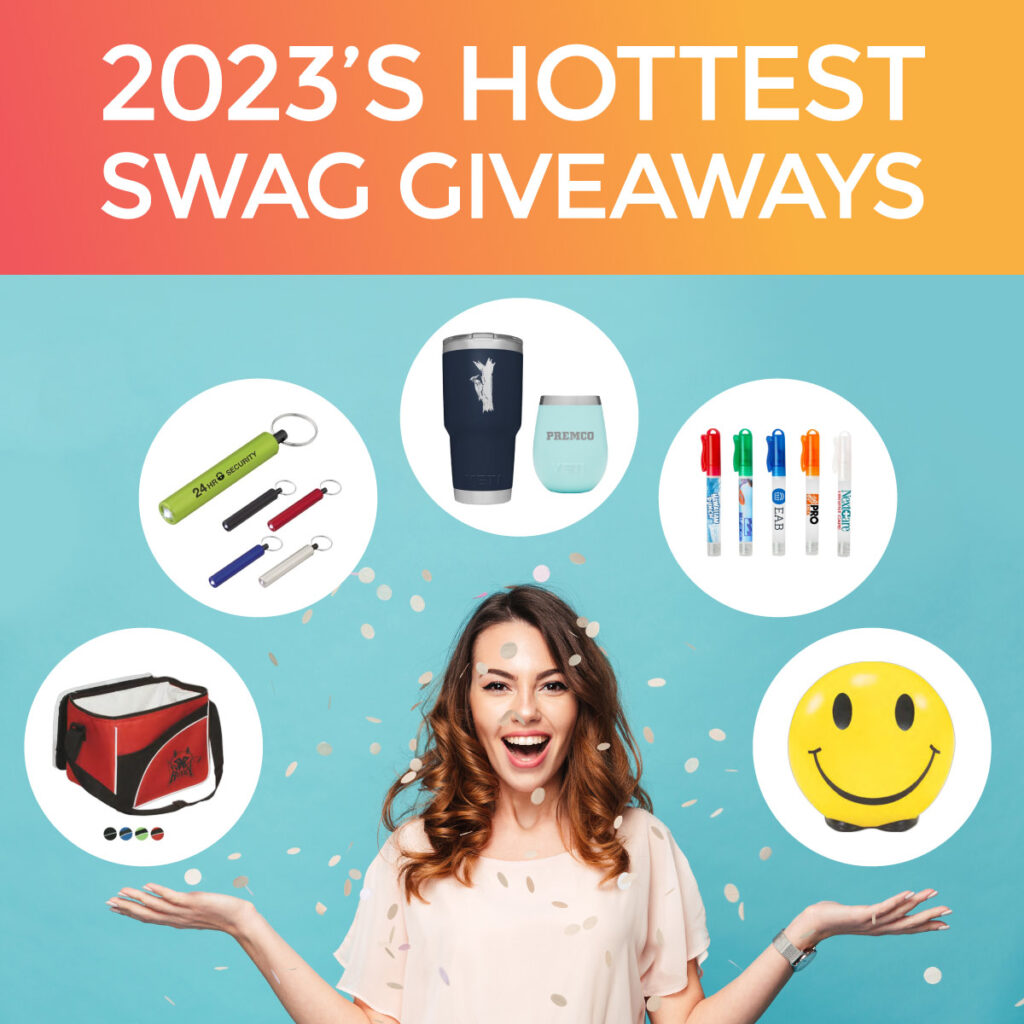 Popular swag giveaways for 2023
Last Updated on December 22, 2022 by Rachel Leone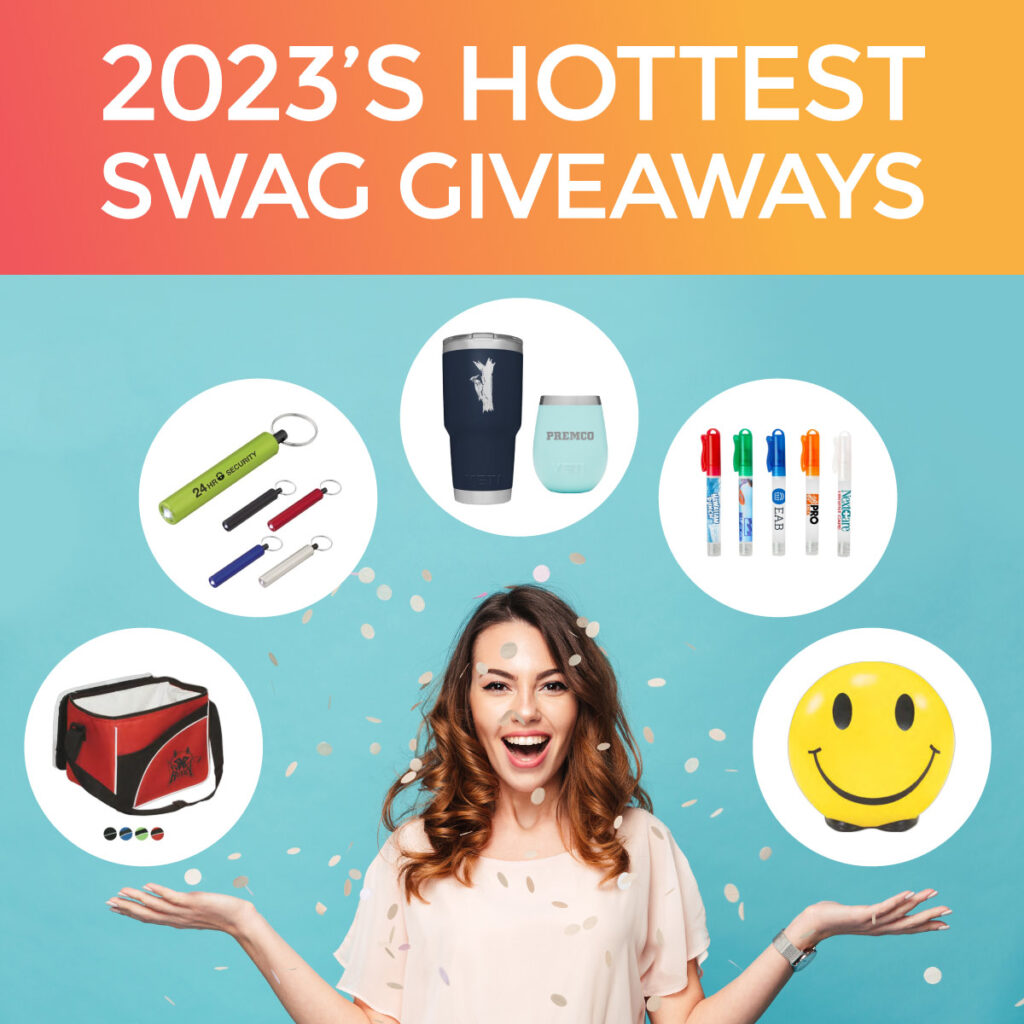 Wondering what's hot in promotional products this year?
Every year I start with a predictions post to try to guess which custom products will do the best for the upcoming year. This year I'm using a bit of data to help me decide. Do you think any of these custom logo products will be the hottest of 2023? We'll soon find out!
Why do my clients like beach balls? They're fun, affordable, and easy to distribute at conferences and special events. They're great for parade throws or keepsakes at weddings and birthdays. And here's a fun fact. Do you know that beach balls are ranked 11/100 on TIME's all-time greatest toy list? Here are three of my customer's favorites.
9. Personalized YETI Drinkware
Why do my clients choose YETI drinkware? Quality and durability are the hallmarks of YETI brand products. Their thermal drinkware products are some of the most desirable products we carry. Every YETI we carry can be custom imprinted with your business's logo and message for an amazing VIP giveaway that will last for years.
8. Hand Sanitizer Products
Who could have predicted this one back in 2019, but hand sanitizers of all shapes and sizes have become one of the best-selling promotional products we carry. My business customers love the large bottles and hand sanitizing stations. Smaller form factors like gel packets, sprays, and individual bottles are perfect for all ages and make affordable handouts.
7. Custom Imprint Flashlights
As long as the world keeps spinning, we'll need flashlights for at least 8 hours a day. Flashlights aren't just handy, with price points on many around $2 a piece; they're an affordable promotional product sure to get a ton of use. They're also one-size-fits-all making them an ideal giveaway at tradeshows and conferences.
6. Coolers and Lunch bags
Not just for bringing your lunch to work daily, promotional coolers and lunch bags are perfect for boating, beach days, and outdoor events. These stylish giveaways can significantly impact the environment and recipients' lunch budgets. I consider these a mid-to-high priced giveaway; however, we carry a few options around $4 each if you're trying to be thrifty.
5. Custom Embroidered Fleece Jackets
Custom apparel is a best seller year after year, and fleece jackets are one of my customer's favorites. Many of these premium gifts come in men's and women's styles from top brands like Port Authority (known for their quality and value) and premium brands Eddie Bauer and The North Face.
4. Promotional Sunglasses
Custom logo sunglasses come in many shapes, colors, and styles; my customers love them because they're affordable and fun. These handy giveaways aren't just for summer! Sunglasses are a relatively cheap branded handout for conferences, expos, trade shows, and any event where you need a lot of swag.
3. Cheap Promo Items - Under $1 each
One of the most requested items isn't an item at all. Yes, we carry "cheap" marketing giveaways for times when you need to give A LOT of items away. Promotional pens are the most popular within this category, but lip balms, hand sanitizer, webcam covers, mints, candies, and cell phone wallets all make my customer's "favorites under $1" list.
Drinkware is a best seller every year and we carry just about any kind of drinkware you need. From mugs to wine glasses for all occasions to traditional glasses, thermal drinkware, and even fitness bottles. Each can be customized with your logo, message, or your name if you're looking to order for a special event like a wedding. Below are three of my client's favorites.
1. Custom-shaped Stress Balls
Rel; we have the perfect custom-shaped stress ball for your 2023 marketing campaign! Seriously, we carry SOOOO many shapes of custom stress relievers; there's bound to be something just right for you. Add your logo and message, and you have a memorable custom gift your recipients will love.