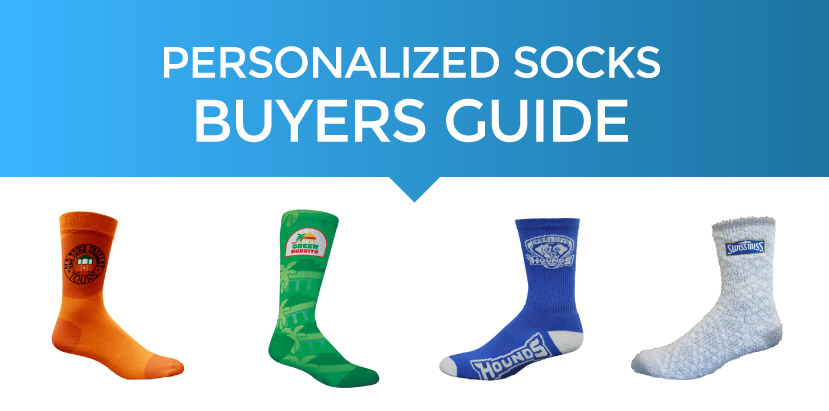 Personalized Socks – Buyers Guide
Last Updated on September 18, 2020 by Rachel Leone
Looking for a trendy promotional item? Put your best foot forward with personalized socks!
In the past few years, personalized socks have become a very popular promotional item, especially if you market to millennials! There are so many reasons why I think socks make a great promotional item, but here a few reasons my customers tell me they order socks.
4 reasons to love personalized socks!
One size fits just about everyone.
Unless you live on a deserted island, you wear socks.
Socks are highly customizable, and can playful, bright, and fun.
Because they're durable, socks make a lasting impression for years.
Just about any business or industry can use socks as a marketing promotion. Of course, they're a "perfect fit" with fitness, sports, and wellness industries, but socks have become a popular giveaway with my clients in these industries too.
Financial Institutions
Video Management Companies
Healthcare Companies
Gyms, yoga, fitness centers
Nursing homes and rehab centers
Below are a few of my most popular personalized socks.
Perfect for cold weather or outdoor adventures, these fully customizable wool socks feature arch support and a cushioned bottom. 
These athletic quarter-cut socks come in white with black cuff, heel, and toe, and can be printed with a custom all-over design. 
Constructed from soft, moisture-wicking materials and breathable mesh, these custom all-purpose socks are great for sports or everyday use. 
Win business casual Friday with these colorful personalized dress socks. Available in tons of colors and sizes, these are one of my most popular socks. 
These full-color athletic crew socks are highly customizable as well as comfy, breathable, and feature moisture-wicking technology. 
Available in light or dark gray, the polar vortex won't stand a chance when your clients and customers are wearing these comfortable fuzzy socks.
These Fuzzy Feet™ slipper socks come in 16 hot colors and feature a non-slip grip on the bottom. Perfect for hospitals, rehab, and medical facilities. 
Need help placing your order?
Contact me to work one-on-one!